MRS PETER FROM STOCKPORT SAYS...
May i take this opportunity to show my appreciation for all the help you have given me and the services you have provided. Some 12 months ago, i needed some logs and was rather apprehensive when i went onto the website and then placed an order for logs having never dealt with your company before. It proved to be one of the best decisions i have ever made. You have been so helpful to me and the logs you have supplied me with have been top class. I have lost count of how many deliveries i have now had but every time you have been punctual and the driver is one of the most straight forward people i have ever dealt with. He is courteous and leaves the logs where you want them, nothing is ever too much effort for him, the last delivery he brought me it started raining as he was tipping the logs, he was kind enough to leave me his tarpaulin to cover them and then collected it later that day when he was passing again. So many thanks once again to you and the people who work in the office. Please feel free to use me as a reference in any way and i am more than happy to tell anyone how good your logs are. yours sincerely Maria Peter
A PICTURE IS WORTH A THOUSAND WORDS...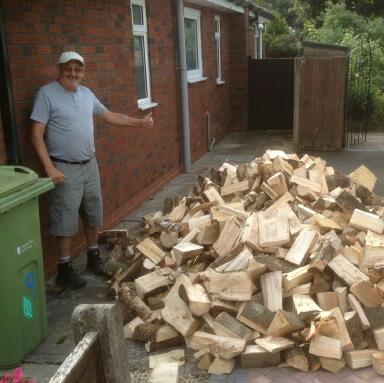 Mike Whittaker from Winsford sent us this picture to show us what he thought about our logs.
CARL FROM WHALLEY RANGE IN MANCHESTER SAYS...
Cheers for the logs i was a little apprehensive of buying part seasoned as i have always bought full seasoned from you but they are fantastic and your video about how to dry them is spot on i was a little sceptical at first so i bought a moisture meter online and tested them myself the other night and your absolutely right i reduced the moisture in 3 hours from nearly 30 down to 20 i even had a couple of pieces that got as low as 12%!! nice one i will be buying some more soon
MISS WINSTANLEY FROM CREWE SAYS...
Hi just a quick text to say big thanks for the logs they look great and the driver was so friendly i live in a terraced house with no storage but couldnt keep paying £6 a net at the garage for my logs so after much debate took the plunge and ordered the full load your driver was very kind and showed me how best to stack them in my back yard and cover them. thanks Vicky
MR NOBLETT FROM WOODFORD SAYS...
thanks for the logs they are fantastic, cant believe i got so many for the money,will use you next time. Great service. Peter
MR ROBERTS FROM THE WIRRAL SAYS...
I would just like to say thank you for the load of excellent logs delivered today.It is a pleasure to do business with a company that do what they say they are going to do and have a great ethos of customer service. The logs were all I had hoped they would be,but having been let down by other companies before I was nervous of when and what would be delivered. I was really pleased with the excellent logs and kindling and the friendly driver. More power to your elbow! I will definitely be using your company again. Yours Tony Roberts Meols, Wirral
MR LONGWORTH FROM LEGH ROAD KNUTSFORD SAYS...:
..The Logs came on time and the driver managed to tip them under my garage for me
MISS POTTER FROM LYMM SAYS...
..The office called me prior to the driver coming which saved me waiting in all day, and the Logs where good quality
MRS EDWARDS FROM TIMPERLEY SAYS...
..After waiting in all saturday for my usual supplier i called Cheshire Logs, despite them being very busy they managed a delivery of Logs for me within 2 hours, when they arrived the Logs where better quality than i had ever had before and they even left me a free net of kindling sticks